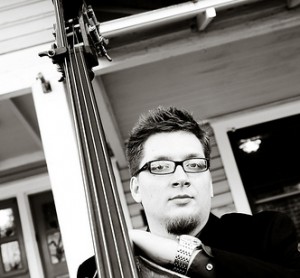 Hi.
I'm Matthew, head of the press at A Fine Press.
That funky thing I'm leaning on?  That's my double bass.  See, I'm a jazz bassist by education (did you know they give advanced degrees in jazz?!) and have been playing since middle school.
When we collaborate on your stationery, it's a little like playing jazz.  We'll improvise and rearrange.  You'll start a riff and we'll run with it.  However the process, you can guarantee it'll never happen just like that again.
And that's what's special about a fine press.  Our custom inviting experiences will always be one-of-a-kind and our made-to-order Humble Beginnings line is not like anything you'll see elsewhere.
If you play, bring your axe to one of our consultations; we'll jam a little while and then get down to business.